RENT-ALL : the evolution of rentals
Online bookings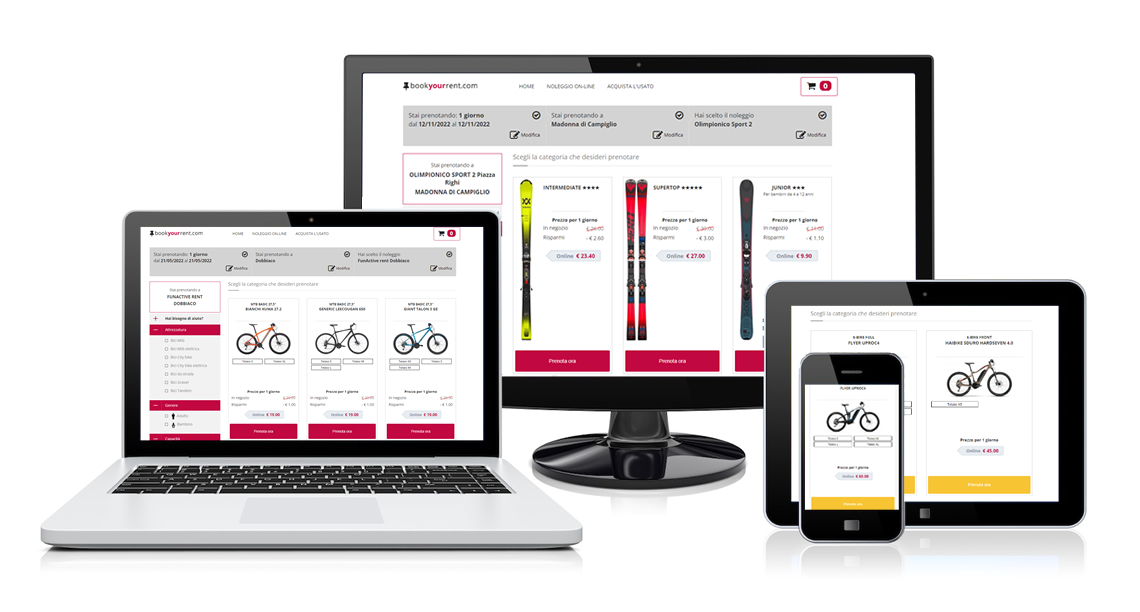 In recent years the world of sporting article rentals has been the protagonist of evolutions and great changes. One of the most important aspects, not to be overlooked, is the web visibility, supported by a valid booking system of the rental equipment easy and intuitive. For several years RENT-ALL has developed a booking system, always updated with the best technologies on the market.
The RENT-ALL booking engine is easily integrated into any website, and is perfectly navigable from all devices, including mobile devices (tablets, smartphones).
It also provides a integrated messaging system, which supports the user in the delicate pre-sales phase, and manages the main electronic payment systems.
After the rental period has expired, the system sends the user a short satisfaction surveys, with the request to review the rental service received. This allows the rental of gather important information, with a view to a constant improvement of the service.
A powerful and configurable booking engine that can be configured according to your needs
Find out more
The booking engine easily adapts to the graphics of your site
Find out more

Responsive Technology
The reservation can be made by any device
Increase your business, without neglecting customer care now you can!
Thanks to RENT-ALL solutions.
Your rental work will be faster and more organized thanks to RENT-ALL
RENT-ALL is a powerful booking engine, ideal tool to expand your customer base.
With more than 10000 reservations every year, in more than 50 resorts, we have a wide coverage on the territory.
Il booking engine is easily personalized and integrated into any website.